The outdoor space is one of the most communicative areas of the home. Among the elements that complete it, ceramic outdoor floors stand out for having the ability to turn it into a distinctive and charming area.
Therefore, if you are looking to improve your garden or terrace with ceramic outdoor floors, here are some tips to achieve the best result:
1. Choose a type of ceramic floor adapted to your needs:
To improve the outdoor space it is important to take into account location, climate and use. For example, the Calacatta marble collection is perfectly suited to an exterior with a Mediterranean atmosphere and avant-garde style.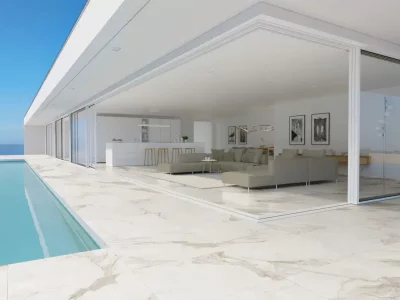 2. Consider the texture and finish of the ceramic outdoor floors:
This significantly affects the appearance of the outdoor space. In the case of frequented areas that get wet often, anti-slip finish is the best option. The Cement ceramic collection offers models suitable for these needs. If, on the other hand, you are looking for a more relaxing and peaceful atmosphere, you can choose an outdoor floor that imitates the texture of wood, as is the case with our classic Nairobi series.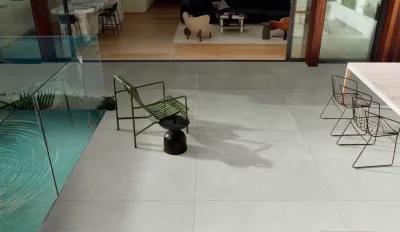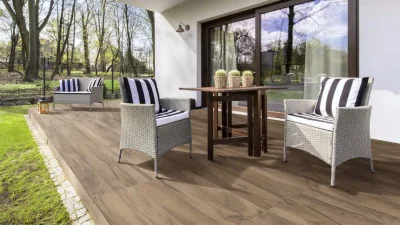 3. Play with colors and patterns:
It is important that the design of the floor complements the style of your outdoor space. If you have a minimalist and modern décor, you may prefer tiles in neutral colors. The new Bellver stone imitation collection is perfect for this. Also the pattern of the tile influences the look of the place, so a herringbone or mosaic pattern will give a unique and eye-catching look to your outdoor space.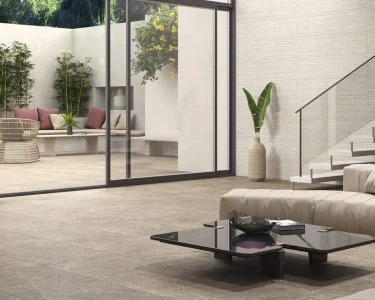 4. Think about cleanliness:
The ongoing contact with the outdoors makes the ceramic tile floor being clean key to its appearance and durability. Therefore, you should make sure not to use abrasive chemicals that can damage the materials.
5. Combine with other elements:
To create a harmonious outdoor space, add elements such as plants, garden furniture or decorative accessories according to the style you want to give to the terrace or garden. The cement-effect ceramic from the Kai collection is so versatile that it becomes the perfect floor to match any type of decoration.