Finding the perfect rain shower head is all about your personal preferences and the specific ambiance you want to create in your bathroom. Having a clear idea in mind will greatly assist you in choosing the rain shower head that suits your needs. If you're uncertain about what to consider, here are some straightforward tips to guide your decision-making process.
A rainfall shower head is an essential component in modern bathrooms.  Larger versions of fixed shower heads, known as rain shower heads, are intended to improve coverage and your showering experience. The ideal rain shower head for you will depend on factors like features, height, and size. Here's what to keep in mind.
Rain Shower Features
Today, we all seek special features that enhance the product's value and, consequently, our overall experience. This applies to selecting a rain shower head as well. Look for unique features that technology can offer. Common features found in rain shower heads include a technology that creates a gentle stream of warm water, simulating a bath-like experience. Another feature to consider is adjustable water pressure settings based on your preference for each shower.

Coverage & Water Pressure
Rain shower heads offer comprehensive water coverage, resembling a rainfall experience. However, it's important to consider water usage, especially in light of global water concerns. Look for rain shower heads equipped with technology that maintains full water coverage while using less water.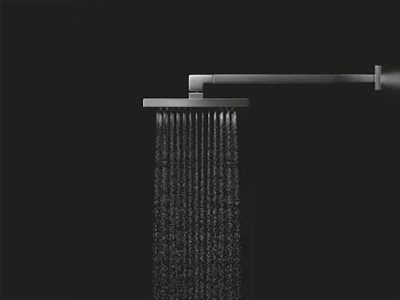 Key Factors to Consider
In addition to the above factors, there are five other essential considerations to weigh when choosing the right rain shower head.
Bathroom Style: Match the rain shower head design to your desired bathroom aesthetic, whether it's square, round, wide, narrow, low, or high.
Wall or Ceiling Mount: While ceiling-mounted rain shower heads are common, wall-mounted options are becoming popular due to easier installation.
Style/Finish: The style and finish of your rain shower head are as important as its size and shape. Choose from finishes like chrome, brass chrome, or chrome plated, as they can impact your bathroom's overall appearance.
By keeping these factors in mind, you can make an informed choice when selecting the perfect rain shower head to enhance your bathing experience.